Ryan Abbott MD, JD,

MTOM

, Ian Ayres PhD, JD, Ed

Hui

MD,

Ka

-Kit

Hui

MD

 

Pressing on your perineum is like pressing a magic button that makes it easier to defecate.  This page provides background information, pamphlets and videos on the how to use the perineal pressure technique.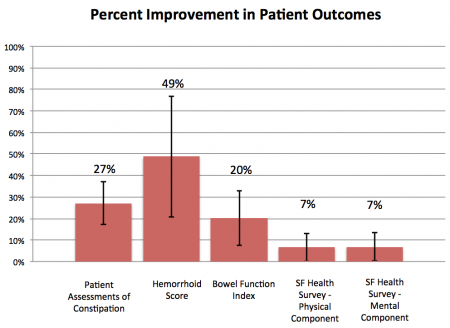 Ryan Abbott, Ian Ayres, Ed Hui, and Ka-Kit Hui  conducted a randomized control trial at UCLA Med School with 100 subjects – 50 randomized to treatment and 50 to control.  Effect of Perineal Self-Acupressure on Constipation: The PSAC Randomized, Controlled Trial (JOURNAL OF GENERAL INTERNAL MEDICINE). The experiment indicates that the technique was remarkably effective with statistically significant and clinically meaningful improvements in patient assessments of constipation quality of life (PAC-QOL All), bowel function, and health and well-being.  Subjects assigned to treatment experienced, on average, significant improvements to a modified Bowel Function Index (BFI), Hemorrhoid Score, and both components of the Short Form Health Survey (SF-12v2). What's more, patients in the treatment group reported substantial satisfaction with perineal pressure:
72% of the treatment group reported that the perineal pressure technique helped them to "break up, soften, or pass [their] stools."
54% reported that the technique helped them to "avoid having a hemorrhoid or lessened the impact of an existing hemorrhoid."
72% reported that the technique helped them to "avoid or better manage the effects of constipation."
82% of the treatment group patients indicated that they would continue to use the technique, and 72% indicated that they would recommend the technique to family and friends.
You can read more about the story of how Ayres came up with the idea of testing the technique in this Forbes post.
You can provide feedback by clicking here.